Butch is a 4-year-old English Bulldog with a gorgeous underbite, six crooked teefies, and an affinity for extra sharp cheddar cheese sticks. In short, he's perfect.
Since I'm keenly aware of Butchy's innate star power, I FINALLY decided it was time to make him an Instagram account — but not before asking some seasoned Insta veterans their advice.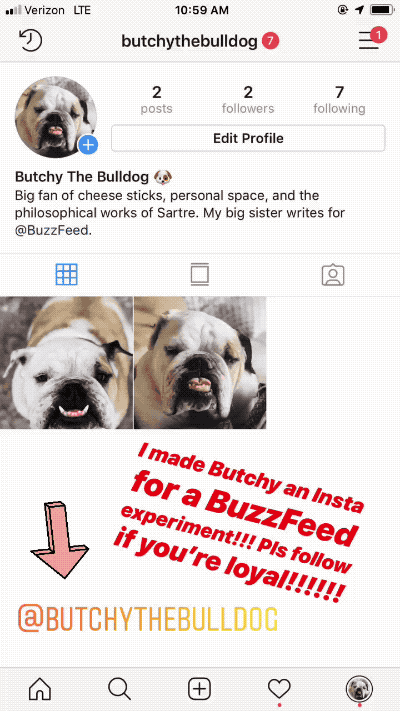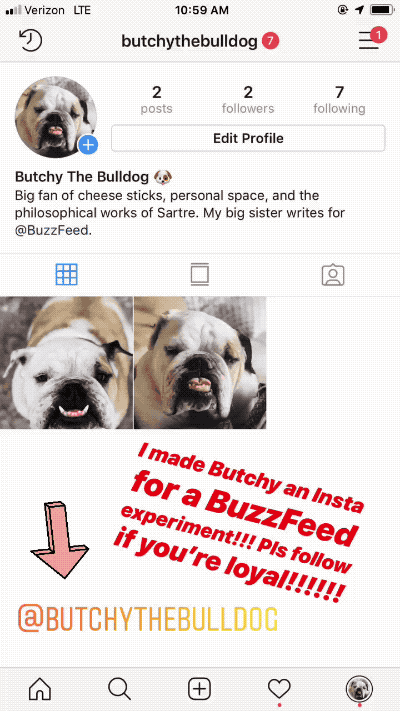 So I took to Petcon, a convention where Instagram-famous pets and their owners meet and mingle with other creators and fans, to learn how to create the best content for Butchy's page.
1.
"Play up your pet's personality." — @danzigbros (75,000 followers)
Like Bart, Butchy is also pretty grumpy-looking. Therefore, I tried to play up his tendency to look like an old man who thinks everything and everyone around him is trash.
While I'm not totally sure of Butchy's niche yet and I'm not nearlyas crafty as Izzy's dad, the closest Butchy and I can get to their level of *~gLaMoUr~* is putting him in his winter coat, so:
3.
"Post consistently!" —@theklauscat (494,000 followers)
I have to confess that posting consistently on sosh meds (social media) isn't one of my strong suits. Buuuuuuut I'm happy to report that after starting Butchy's account six days ago, I've posted TEN TIMES!!!!!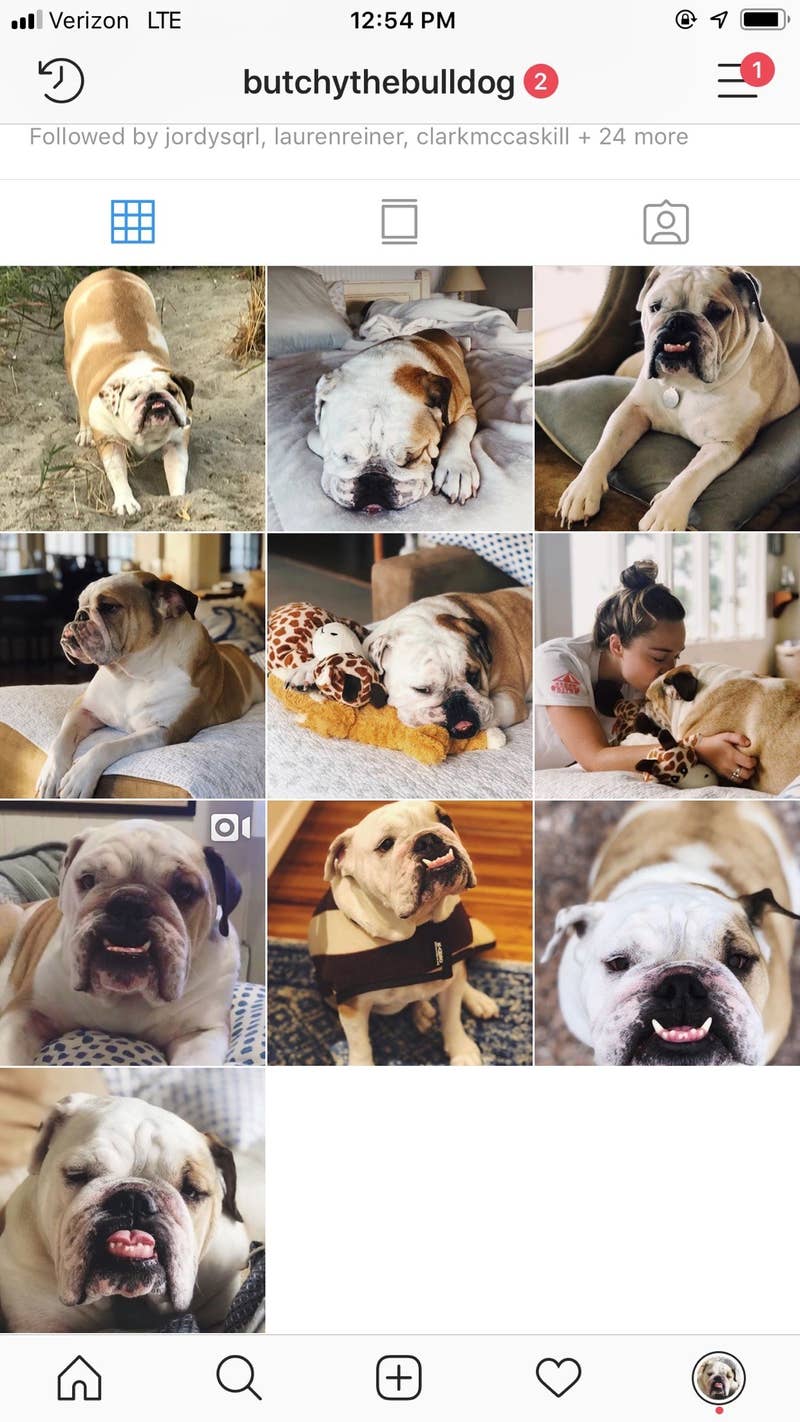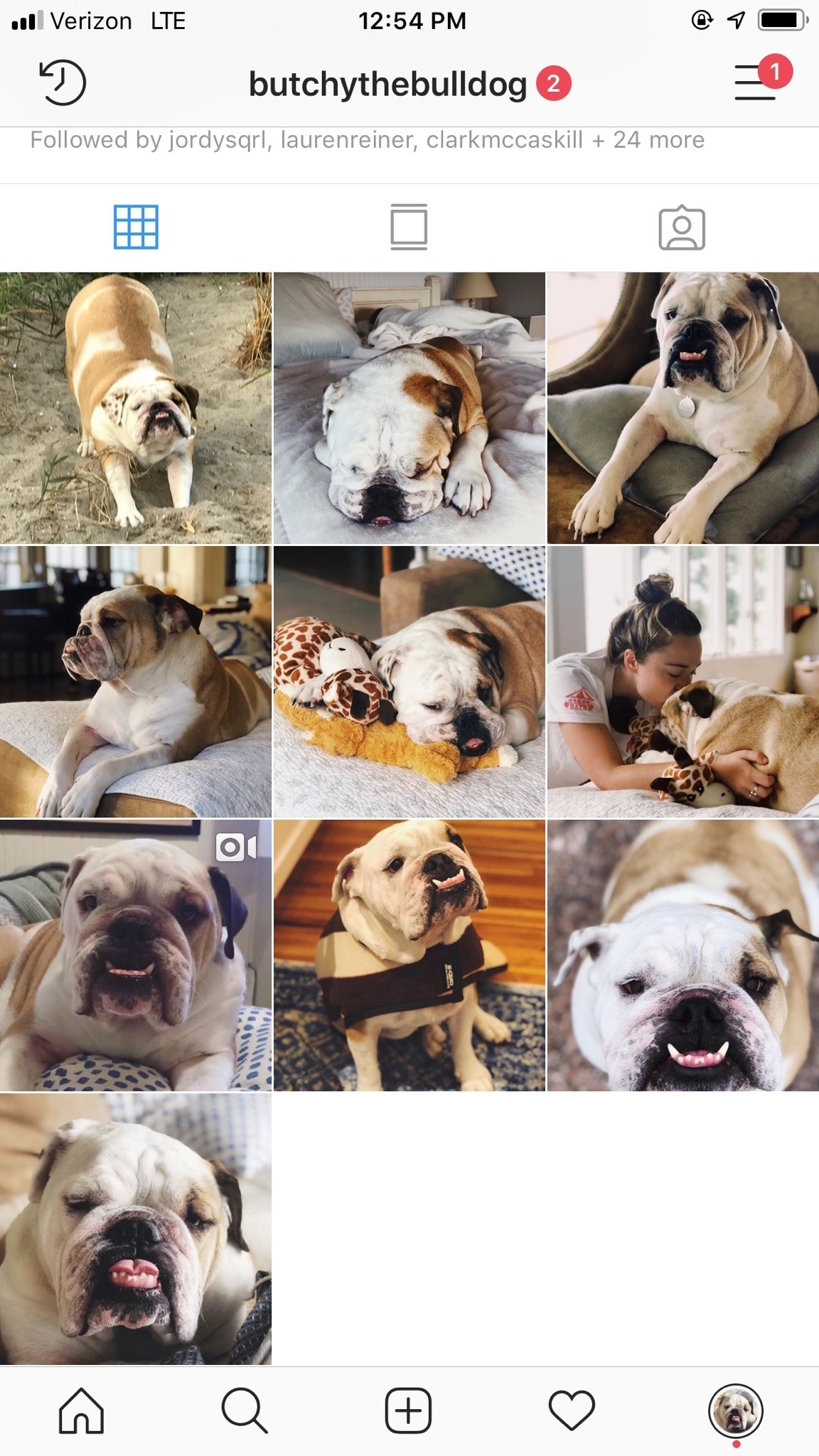 4.
"Share the special moments you have with your pet!" —@157ofgemma (228,000 followers)
This post got some engagement, including my little sister telling me to screw myself for correctly acknowledging that I am Butchy's favorite.


So we started engaging with other pet accounts! Here we are and liking and commenting back to a new follower who shares our love of teefies!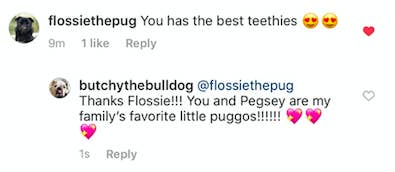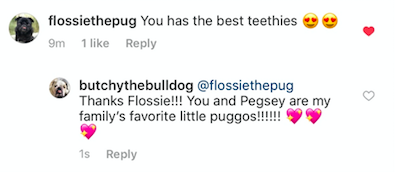 6.
"Don't try too hard." —@bertiebertthepom (282,000 followers)
For some low-hanging, *UNFORCED* content, I posted this quick lil' vid my mom sent me of Butchy doin' some mlems. It's simple, unprompted, and just what the people want!!!!!!
7.
"Take well-lit photos and have well-behaved pets!" —@leonardothecorgi (74,000 followers)
While I may not have a fancy camera, my phone DOES happen to have Portrait Mode. JUST LOOK AT THIS HIGH-QUALITY, WELL-LIT VERY GOOB BOYE!!!!!!!!!